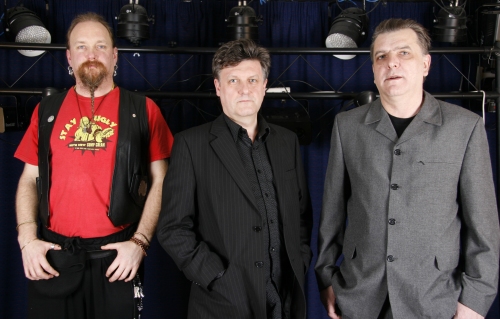 Sweet Knuckle grew out of Flake, who themselves grew out of the remnants of King Mob Echo and were formed with the idea of exploring the quirkier side of "pop" music. All material featured on this web page was written, recorded & produced by Sweet Knuckle. ©Sweet Knuckle 1999. Tracks were recorded either in the Temple of Din or West Orange Studios (Preston). Free for personal use but if you use anything commercially we'll require a cut !
Personnel
Steve Shewan (Vocals)
Ian Butterworth (Guitar, Backing Vocals)
Roger Wikeley (Bass, Backing Vocals, Electrickery)
Jo Mimic (Backing Vocals)
Bob Hall (Drums, Percussion, Backing Vox)

I suppose the best way to describe Sweet Knuckle would be as an experimental pop band - experminental in as much as we'll try anything with sound. Traditional guitars mix with sampled beats, found noises, synthetisized melodies, processed voices......... In other words Savant Guard !

Here's the entire output of Sweet Knuckle to date. Recorded either in the Temple of Din or at West Orange studios in Preston it's a collection of songs that would have been trimmmed down and released as an album. Unfortunately though funds didn't allow a full release so here are the tracks anyway. Some remain unfinished, some are rough mixes but there you go... All tracks remain the copyright of Sweet Knuckle:
Savant Guard (1999)
All Tracks © Sweet Knuckle 1999

Stop Press: We're Back In Action !!!
Well after a long hiatus we're back in the saddle. And this time we're more than ably supported by Bob Hall (of Switzerland fame) who has taken up drum & Percussion duties (with a bit of backing vox to boot !). So here are a few rough mixes tracks from our first recording session:
Kitty Lane Demos (2020)
All Tracks © Sweet Knuckle 2020
Well we've just got ourselves seom mastering software. So here are some treated versions:
Kitty Lane Demos (2020)
All Tracks © Sweet Knuckle 2020
Number Of Hits




| Back to top |