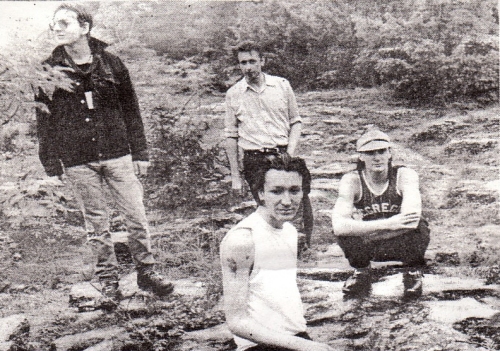 The Sunday Trip were an experimental outfit and comprised (left to right):
John "Sid" Heywood

: Drums

John "Elvis" Downing

: Vocals

David Ross

: Guitar

Barbara Eden

: Bass

Mark Miller

: Bass (Not on photograph)

Paul Connelly

: Guitar (Not on photograph)
---
Videos
The following video clips come courtesy of Glyn Bailey who, several years ago, dug out an old video cassette from his collection wihch featured us playing at the Evening Gazzette Rock Battle on 20th July 1988. We didn't even know it had been recorded, let alone that a tape still existed !
So many moons later and the Temple of Din finally manage to procure some video digitsing hardware in the form of a cheap and cheerful "EasyCap" USB device which arrives from China via fleabay.
Obviously the hardware isn't going to work without the usual fight so after much head scratching, downloading of alternate drivers and swearing we finally manage to digitise the footage. So if you can overcome the distinct lack of quality here's a slice of history for you all to "enjoy". (don't forget this is taken from a second or third generation copy of the original video cassette, which was originally shot on an old 1980s camcorder under the usual poor lighting conditions you'd find in a club)
Like Mother
. Live at the Adam & Eve, Blackpool, 20/07/1988
Big Brother Funk
. Live at the Adam & Eve, Blackpool, 20/07/1988
Movement
. Live at the Adam & Eve, Blackpool, 20/07/1988
---
MP3 Audio LIst
Collected Demos (1985 to 1986)
The following tracks were written, recorded & produced by The Sunday Trip durong 1985/1986. Tracks 1 & 2 were recorded at Northern Woods, Tracks 3, 4, 12 & 13 were recorded at Silent Sky Studios, Preston, Tracks 5, 6 & 7 were recorded at Red Box rehearsal rooms and the remaining tracks were recorded using a Tascam 4 track. Free for personal use but if you use anything commercially we'll require a cut !
Demos 1985 - 1986
© The Sunday Trip 1985/1986
| Back To Top |
Live At Your Fathers Moustache 19th February 1987
Recorded direct from the mixing desk at Your Fathers Moustache, Blackpool supporting John Copper Clark. Mixed by Paul Rogers for Red Box sound who sadly forgot to start the cassette recorder going until half way through the first song. Still we should have asked someone to do it for us so we can't really complain. Those familiar with the other recordings in the Temple of Din will find that having the bits of the first song missing is a bit of a "feature" of our live recordings !
Live At Your Fathers Moustache
19th February 1987
© The Sunday Trip 1987
---
Pictures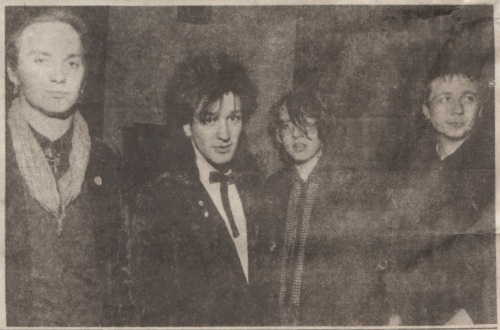 A scan from the photoshoot done for the Blackpool Evening Gazette.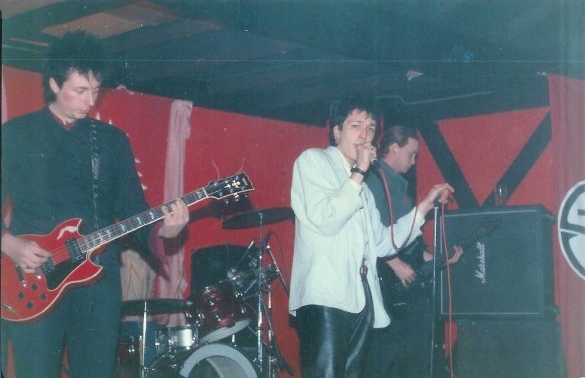 Live at "Your Father's Moustache", Blackpool, 19/02/1987.
"Elvis" and Crab take a stroll through Blackpool centre.
| Back To Top |
---
Number Of Hits