Uncontrolled Masters of Rumbling Voodoo Punk
1996 - 1999
Well the band may be no more but I've left this site up as we thoroughly enjoyed our time playing together.
Audio Files Real Audio versions of two songs from a recent Creeps recording session. Admittedly they sound a bit like they're being played back underwater but that's Real Audio for you (but don't think I'm complaining, if it was down to me to come up with the technology we'd be lucky if we had a wheel between us)
What are Thee Phantom Creeps What is the purpose of this web site ? Just what are these Phantom Creeps ? Who ate the last of the choclato biscuidos ? What is the drug situation ?
Who's who in the current line up A lamentably brief profile of the current line up and some truly dreadful pictures. If you really, really want to know stuff like our hat sizes, how awful we look in daylight and what flavour shoes Richard prefers this might be the place to start. On the other hand it's probably just more of this inane rubbish
Stuff to buy A myriad of interesting Creeps related things all manufactured especially for you to spend your ill gotten gains on (oh go on spoil yourselves - we've got an exceptionally large van repair bill to pay)
Contact Thee Creeps How to get in touch with thee Creeps to book them for gigs and where to send stuff (i.e. hate mail, embarassing nude photos of famous people or yourself, used large denomination bank notes, crates of free beer, cigarillos, 'frop etc. etc.)
Creep Links Other web sites that mention Thee Creeps. Whether good bad or indifferent we mention the mentions (making us fully certified mention mentioners !!!)
***Due to lack of money, the following sections have not yet been fully set up ***
Gig Guide Where you can go to sing along or boo them (managers note: please don't throw fruit as they'll probably eat it, thereby becoming even fatter than they already are. The suspension on the van's shot to hell as it is and anyway watching them eat's not for the faint hearted) Once we get the hang of it this should also contain some Real Audio 'punkcasts' from our live performances.
Dr Adolf Steg Art If only we had a bit more web space, we'd be proud to present a selection of the twisted Doktors finest work, some of which is featured inside our Teenage Fingers C.D. Definitely not for the faint hearted or small minded. But then again... "If thine eye offends thee pluck it out".

For total excitement, here is the entire output of the Phantom Creeps including the Teenage Fingers album and a variety of unreleased studio recordings. n.b. All material remains copyright of Armed and Fat records:
Studio Out Takes 1996 To 1998 (1998)
All Tracks © Thee Phatom Creeps/Armed & Fat Records 1998
Teenage Fingers (2000)
All Tracks © Thee Phatom Creeps/Armed & Fat Records 2000
| Back to top |

It was nearing the end of the year of one of the Lords 1996 and, being thoroughly dissillusioned with the all pervading stench of sub disco blandness that was passing itself off as contemporary musical entertainment, thee Phantom King decided it was time to stir up the mess at the bottom of his pond in the vain hope of finding a few life forms capable of producing some damn fine rumbling voodoo punk.
After finding only a few lamentably untalented snails and a pretty passable juggling frog he decided that to get the quality of guitar weilding zombies he needed then his time would be better employed hanging around the smoky recesses in some of the less salubrious local taverns. Armed only with an ancient book of binding spells, a blackjack (the Trebor chew variety) and the Kings shilling (well it had been mouldering in his Post Office account for a long time now and he'd be needing a spot of refreshment) he set off on his quest........
All so nearly went to plan but, as usually happens in these tales, his techniques were a bit rusty so, although he eventually managed to track down some damn talented candidates, he messed up the invocations (mispronouncing a few of the more important barbarous names) and rather than entrancing his chosen victims what he actually ended up with was a bunch of sub-simian, second rate, no hope, talentless plank spankers and a cigar smoking man mountain who hit things with sticks (referring to to the abysmal din this produced as 'drumming') who had been loitering in the pool room drinking petrol and making inept attempts at engaging passing ladies in conversation. (eds note: It has to be said that he actually got off quite lightly, a few more misplaced syllables and he'd have come up with something resembling the Cthulu spice goats)
However after surveying this malodourous bunch of misfits a strange gleam appeared in his minds eye... maybe these idiots are just what he needed after all ??? So without further ado he cast them into a dank cellar full of poor quality instruments and set about whipping them into shape.
The long months passed and although their initial forays into daylight were met by loud jeers and fits of laughter he spared not the rod and eventually they managed to stumble upon their 'soon to be infamous' rumbling voodoo punk sound. Thee Phantom Creeps had been born....... And, as usual, a few years later stopped playing due to public apathy.
Unfortunately there's not a 'himbo' between us so it's most unlikely that we'll ever break into the lucrative teenage pocket money market. It's also doubtful whether we'll be offered any highly paid celebrity catwalk jobs either. But here we are anyway.
| | | | | |
| --- | --- | --- | --- | --- |
| Richard J. King | Dunk Stinks | My "Stevie" | Raptor Ramjet | Max Andenogui |
| Vocals, Harmonica | Churning Guitar, Spanners | Holy Guitar, occasional trumpet | Dead Walrus Chanting | Drums & resident cigar expert |
Live At The Winter Gardens - Blackpool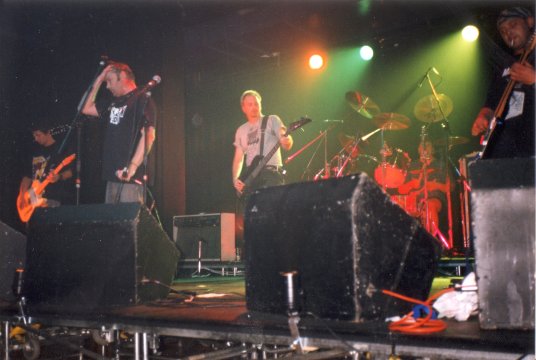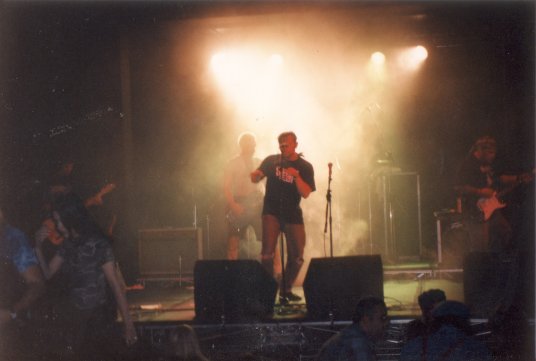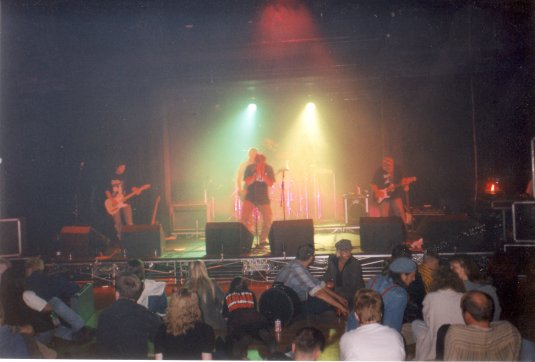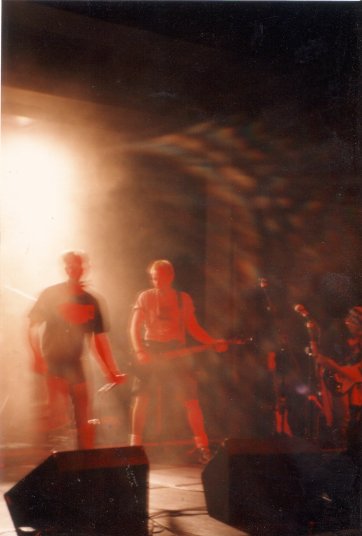 Photo Shoot For The Evening Gazette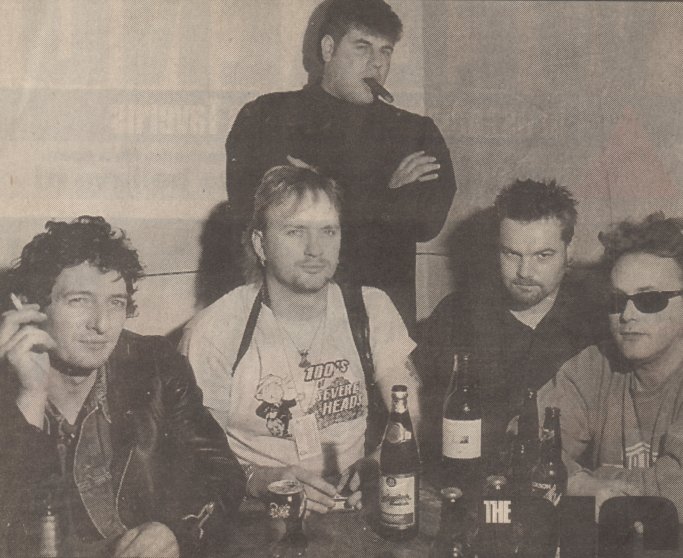 Gig List 1996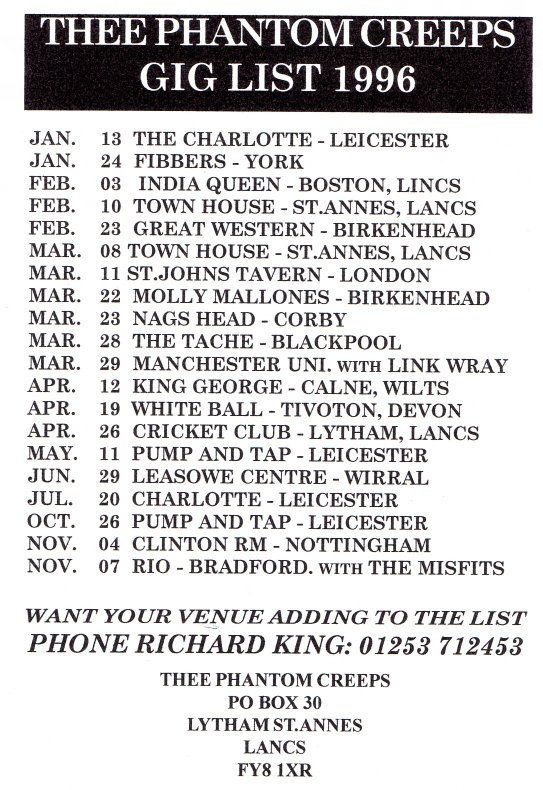 | Back to top |

Only £ 10.99

The much unawaited 16 track debut C.D. featuring the 'best' tracks from two studio sessions and four live songs. Some talk of their being an infamous hidden track but we don't believe it. For a limited period it also comes with a free Dr. Steg comik (i.e. limited only by the time it takes for us to lose what's left of 'em)

And, as previously featured in the audio files section, two of the featured tracks can be heard on the Creeps corner of the Visionary web site.

Single pic to come.
A mere £ 2.99

Thee Phantoms first forage into the olde worlde of 7 inch vinyl. Tracks featured are Bad Place, Strychnine and Spiders. Limited stocks available (i.e. we've still got some left) so buy now before they crumble to dust !!!
All prices are in pounds stirling and include P&P.
| Back to top |

Well it's obvious that not many people like us 'cause there isn't a great deal of electric string attached to this page is there ? I suppose it does give the miniature electric monks in your computer a rest though.
Another plug for Visionary and Screen Edge. For the finest in non mainstream and low budget horror films, live music videos, japanese pink cinema and a whole lot more then drop in on their site.

Nothing like hollywood and proud of it !
| Back to top |

Love is the law Love under Will